April 24, 2012 - Tokyo, Japan Adways Co., Ltd. announced that it has acquired JS-Media Co., Ltd.in Taiwan, as well as Search Maximizer Co., Ltd. in Thailand. The subsidiaries will further strengthen Adways' presence in the rapidly growing Asian region and support global expansion of companies in Japan, China and Taiwan.

Adways has set the standards in the Chinese internet marketing by providing CHANet, affiliate service in China in 2005. December 2011, Taiwan Yahoo! and Adways agreed on a partnership to introduce keyword targeted advertisement in Taiwan. The acquisition of JS-Media is a significant step for Adways to improve its market presence in Taiwan and to increase its ability to reach the outer Chinese market for both Taiwanese and other Asian countries.
In Taiwan, the internet penetration rate is 82.5%(*1) and smartphone penetration rate is estimated to grow up to 34%(*2).
JSmedia will provide internet advertisement for smartphone form now.

In Southeast Asia, Adways has expanded its service network through acquiring ownership of Search Maximizer Co., Ltd., an internet advertising agency in Thailand. It will offer internet marketing services such as keyword targeted advertisement and affiliates in Thailand.

Overview of Subsidiaries
<Global offices>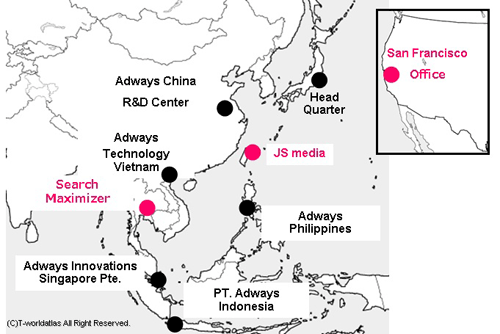 <Taiwan>
| | | |
| --- | --- | --- |
| Company name | : | JS Adways Media Corp. |
| CEO | : | Jason Yang |
| Businesses | : | Internet Advertisement for PC and Mobile, Smartphone Applications Development & sales |
<Thailand>
| | | |
| --- | --- | --- |
| Company name | : | Search Maximizer Co.,Ltd |
| CEO | : | Pravit Anuvatesirikeat |
| Businesses | : | Internet Advertisement for smartphone, Applications and mobile Development & sales |
<JS-Media Co., Ltd.>
JS-Media Co., Ltd. was founded in 2005 and started its service as an exclusive agency for 'Wretch', one of the most popular blogging website in Taiwan. Further on, it expanded its agency business by offering advertising services of Facebook and other major websites. Jason Yang, CEO of JS-Media Co., Ltd. is a former Managing Director of IAMA (Taipei Internet Advertising and Media Association), and is one of the most respected industry veterans in the Taiwanese digital marketing scene.
<Search Maximizer Co., Ltd.>
Founded in 2008, Search Maximizer is one of the five official agencies for the Google Adwards in Thailand. It specializes in keyword targeted advertisement and search engine optimization.
<Adways China Co., Ltd.>
http://cn.adways.net/
Adways China Co., Ltd. is a subsidiary completely owned by Adways Co., Ltd. with services reaching a nationwide level, Adways China Co., Ltd. started its services by providing China's top level Affiliations program [CHANet], with other services such as Chinese version of Twitter (called Weibo, which has 300 million users) to create buzz on SNS and BBS, search engines marketing [Keynet], Search engine optimization services [CHANet SEO] and other online based services.
*1 The Research, Development, and Evaluation Commission
*2 Research In China